Twitter is one of the interesting and tops social media platforms that provide many features to users. Here you can share your pictures, videos, audio, and documents files, including many other files. The most important fact is that you can use it for a trend about which trend you want to go with according to daily news and knowledge-based information. Some people want to save a GIF from Twitter but cannot miss many proper ways and facts. Do not worry, down in this article, and we have provided a complete guide about how you can save a GIT from Twitter fabulously and easily.
Overview
Here are some handsome and straightforward ways about how you can save GIFs from Twitter. However, before going to the exact topic very deeply, you must learn some basic facts about Twitter's GIF. Do not worry; we have mentioned these important facts.
Twitter GIFs are not GIFs in Real
Yes, it might be a surprising fact for you that twitter GIFs are not GIFs in real. You can assume this but going to your Twitter account and then look into a GIF. Apart from GIF, you will see a video-like movement there. It's actually a video-based phenomenon that Twitter converts when you, we, or anyone else uploads a GIF on Twitter. So, it's actually a video, and saving a video is somehow more complicated.
Now let's learn about the GIFs to save on different devices.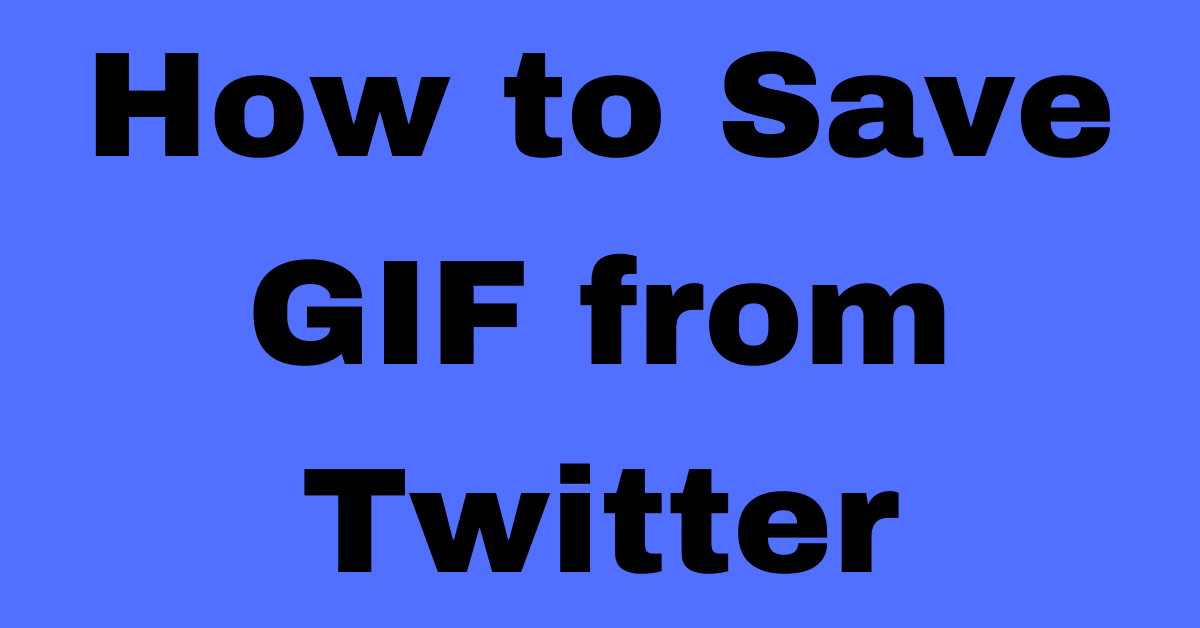 Save a GIF on Your PC
To save GIF on your PC is more difficult than to save it on your phone. Here are some steps that we make more simple and specific to make it easy for you!
Open your Twitter account on PC and see which GIF is which you want to save and copy
Now right click on that GIF, and you will see a copy of that video and copy that video address
Now open a new tab and search for a video to GIF converter online
There will appear several different search results, and you can open any one of those
Opening the tab, a bar will appears shows past your video link, past video link there that you have copied from your Twitter account
Click on the submit or upload button (it differs from site to site)
Now click on convert to GIF
There will be a GIF of the results, now click on save, and you can use it whenever you need it
Note: We will recommend using https://ezgif.com the best option to change a Video into GIF
Saving a GIF on Your Phone
Saving a GIF from your mobile phone is more complicated than saving it from the PC. It's somehow simple but complicated because of a mobile phone's operating system, which uses less space but needs to have extra features for this. Let's learn some possible ways to save GIFs from the computer.
Also check out the guide on : how to change twitter username
Save Twitter Using Mobile Browser
Click on the GIF you want to save and click on tweet there
When you click on the tweet page where you want to save a GIF, now click on a copy by right-clicking that GIF
Bow open a new window at browser and follow the same procedure as for mobile i.e., search for a video to GIF converter
Open the top result and put the copied link at the box which shows paste your link
Click on the upload video button and then click on convert button
Your video will be converted and then you can save it in form of GIF according to your need
Using an App
Go to play store and search for Twitter2GIF app
Now click on download button and install the app
Open the app, a bar showing paste link here will appears, paste the link of URL that you can copy using the same procedure as we have given in the previous step
An option download GIF will appear, click there to save GIF into your android device
Final Verdicts
Above is a complete and smooth guide about downloading and saving a GF from Twitter easily without facing difficulty. Both the android and PC have their own way of downloading and saving a GIF. You can follow each according to your device. Still, if you face any difficulty, feel free to contact us any time.
You may also read this
Gmail app for windows connected to WiFi but no internet