Having issues playing webm video files on your device? then you have to convert webm to MP4 and enjoy your videos offline while sharing with family and friends.
If you are looking at converting a Webm video file to MP4 and having issues with it, you are at the right place. This post will show you how to convert it seamlessly and if you can't view your Webm videos easily on your device or it's not in sync with your playlist, the conversion to MP4 will solve all of that.
Webm files are video or audio products of online streaming and was created by Google. This means they will not work on all devices. They were meant to be viewed online so most times people just record them online and try to view them on their devices. However, this is not successful for most trials, hence the need for MP4.
The MP4 file format is accepted by almost all devices, it's more user-friendly, and clearer on your laptop, desktop or mobile device. Videos are best enjoyed offline and most times on-the-go while you are on that trip or while waiting to catch a flight or train. You can only enjoy this when your webm file is fully converted to the desired format which can allow you to enjoy it offline and wherever you are.
Why It's Important to Convert to MP4
Webm files are exclusive for the web. They are meant to be viewed online and if you want to view them offline it's most times difficult. The only way out and why the conversion is necessary is to convert the file online and enjoy freely offline across all devices.
This is where evano comes in which is a site that does multiple multimedia conversion. So you can convert any web media file to other file formats that can be used for offline purposes.
The MP4 which is a file extension defined by MPEG-14 is a video format with AAC audio support that can allow you watch videos and even listen to audio content. It even supports subtitles, 2D and 3D graphics. Sometimes your old video files might also refuse to play on your device, you can only get past that hurdle by converting them to the latest file format like the MP4 and get them back to life.
Now let's delve into how you can convert Webm to MP4 variant that you can enjoy across all your devices whenever you want.
How To Convert Webm to MP4
The evano website is easily navigable and user-friendly. All you need do is follow the instructions below and you can never go wrong with it. And more importantly, this is an online conversion, you don't have to download any app or software for this. It's also free no matter the number of conversions you do in a day.
Step 1: Visit the site @www.evano.com on your mobile device, desktop and laptop. Also ensure you have a stable internet connection. For the best experience, use a laptop or desktop.
Step 2: when you open the site, you'll see a blue tab with the caption "Choose File" which you can click then you select the Webm file. However, you can easily do this by dragging and dropping the file if you're using a laptop or desktop device. You can just go to your hard drive or Google Drive or whatever storage you have the Webm file stored, click on it and drag it down to the "Choose File" tab.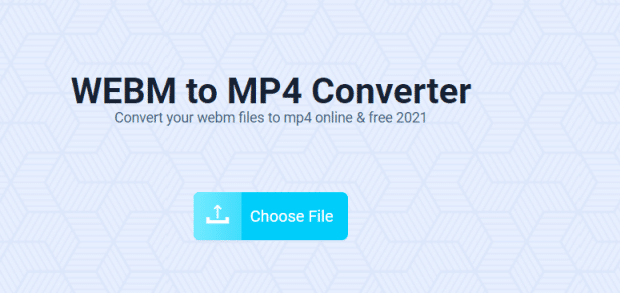 Step 3: If you are going by the choosing file option, you can choose the file you want to convert and then choose the format you want to convert it to like "Webm to MP4". The diagram below explains better on how to go about this which is going to take you a little more than a couple of seconds and less than that if your internet speed super fast.
Step 4: Then click the "Convert" tab and you can have your video converted to MP4 within a couple of seconds.
Step 5: When the conversion process is over, you can click on the link and save the file to your device.
How to Download Webm Videos from YouTube to MP4 On Ontiva
Ontiva offers another platform to convert videos to MP4 without any hitches.
YouTube is a great place to download videos for fun, learning or for a variety of purposes. But to enjoy this video offline you need to get them out of their online location and Ontiva offers that option seamlessly. Ontiva is another site can help you download videos directly into mp4 formats without even converting them. During the downloading process as you will find out, you'll have the option to download in mp4 so it saves you off the worries of converting webm to mp4 after downloading.
This is pretty much easy, all you have to do is follow the steps below.
Step 1: Simply head to the website at Ontiva.com and you'll find a bold search bar there which you can use to find the video you are looking for or copy the video from YouTube and paste it in the search bar.

Step 2: Click on "Start Now" and the next page will be opened which will show you all the file formats present that you can convert. Select your preferred format which in this case is MP4 the most versatile multimedia file format.

Step 3: You can then click on download and the video will be downloaded straight to your device.
Conclusion
Videos form an important part of our lives whether they are used for the sole purpose of entertainment or for learning, they are integral part of our lives. Most of the time, these videos require us to share them with loved ones and you can't share them while streaming.
You need to first download them and enjoy them offline before the sharing becomes easy. But you need to first convert them to shareable file formats like MP4 before downloading. Some come in webm formats while some come in other formats only viewable through the web.
Evano provides the best platform to make these conversions and subsequent downloads that you can enjoy offline and share with family and friends. However, the maximum file size you can convert is 100MB.
Start using evano today and enjoy free limitless downloads of your favorite videos in webm formats and convert to mp4 for use across all your portable devices.