Email Marketing is one of the oldest forms of digital marketing. With over 4 billion users, emails are still an efficient marketing strategy tool. 
In this blog, we have penned the Top 5 Email Marketing Ideas to Increase Open Rates. 
Before we begin, let's understand what Email marketing is and why it is essential for your business. 

What is Email Marketing and Why is it essential?
Email Marketing is the process of sending promotional emails to a large audience to generate sales or leads. 
Did you know that shoppers often look for emails from brands when they want to buy a product?
Email marketing is the most cost-effective way to build your connections. Despite the rise in the usage of other social media platforms, people tend to open emails at least once a day. 
Data also shows that every $1 spent on email marketing gives an ROI of $51. Hence, building a successful email marketing campaign must be on any digital marketer's to-do list!
One of the best tools for email marketing is undoubtedly Mail Chimp. The free and the paid version both are of great use!
Thus, learning email marketing can definitely change the way you operate your campaigns. 
Let's now look at the Top 5 Email Marketing Ideas to Increase Open Rates.
Top 5 Ideas to Increase Open Rates
1. Pay attention to your content
The foremost way to see an increase in your email open rate is to devise your content efficiently. Make your content interesting enough to engage your readers. 
Personalize the content
A great way to start devising your emails is through personalizing your content. Did you know that personalized emails deliver 6 times higher transactions? 
The simplest way to personalize your content is to include the recipient's first name in the email and the subject line. Most Email Service Providers offer this within their functionality. This tactic is known to increase open rates by 16%.
Another way to increase your open rate is to use a real reply address instead of donotreply@xyz.com. Using a real email address helps you build your credibility and makes you look trustworthy. Along with this, include your signature and contact details at the end of your email to encourage your audience to directly connect with you and build relationships. 
Plan and schedule your content
Curating your content well is a key to encourage any reader to open your email. Include power words, numbers, or questions in your subject lines. For example, save 25% on all products or Holiday sales! 
Keep your email 50-150 words. Write content that your audience will find relevant, engaging, and helpful. 
Make your Call to Action noticeable, big, crisp, bold, and simple to click. 
Schedule your emails using tools like Hootsuite or CoSchedule. Create a calendar to schedule your blogs, social media posts, and campaigns. Send emails when your readers are most likely to be active. 
2. Segregate your audience
Email segmentation is an essential part of email marketing. It is the process of splitting up your email list into different segments or groups based on their behaviour. Segmentation enables you to send relevant emails to each user on your email list. 
For example, a certain group of the audience may want updates for a newly launched product and another group may want updates about discounts and offers. Segregating helps you to send the desired information to your target audience. 
According to MailChimp, segmented campaigns received 14.31% higher open rates. 
To accurately be able to segment your email list, gather and sort your data as and when you receive subscriptions. Your email list can be segregated based on the following points. 
Location of subscribers

Their gender or age

Specific behaviour on the website

How long you have been in touch with the subscribers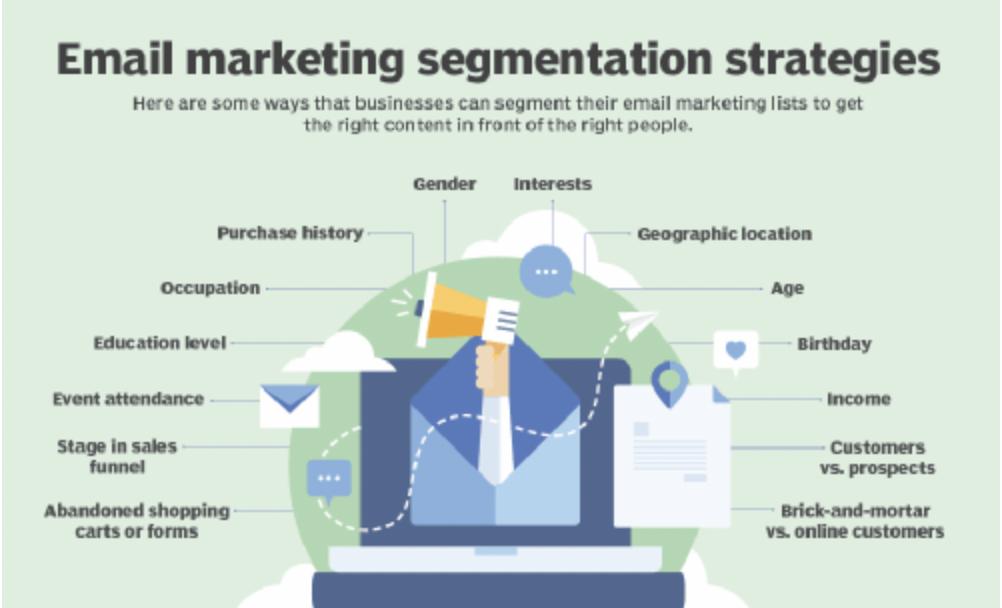 3. Test your Emails
The most efficient way to test your email marketing campaign is via the A/B Testing method. It is the process of sending variations of emails to different sets of subscribers, with the ultimate aim of knowing which campaign works best for you.
Refer to the following examples to help you understand the A/B testing method better and get an idea of how you can use it too!
Does the subject line with a call to action or an incentive work better?

Does writing the recipient's first name in the subject line increase engagement?

Does writing your business name in the subject line increase engagement?

Do the majority of the readers click on a linked image or linked text?

What time of the day receives the most open or click rates?

Do long emails receive more responses or short emails? 
4. Use Email Automation
Email Automation is a technique that automatically sends emails scheduled in advance to your subscribers. As you start receiving more and more subscribers, it is impossible to send emails to each one. Email Automation does your job easily. 
The most common examples of automation emails are Welcome emails, Thank you emails, order confirmation emails, and more.  Automation manages your communications from a welcome email to a follow-up email after the purchase has been made.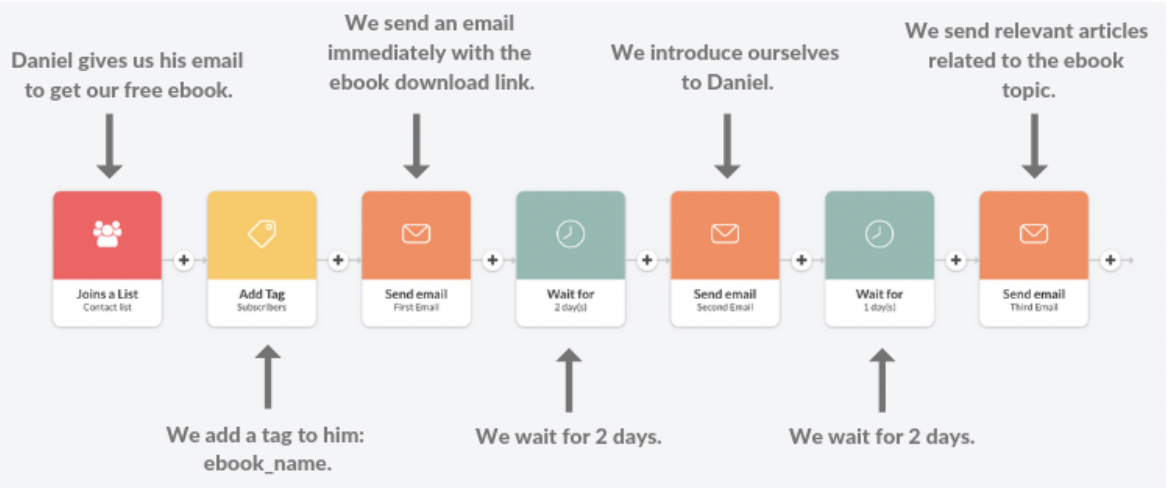 According to Epsilon, automated emails receive 95% higher open rates than traditional emails. 
Here are a few automated email examples that you can use too!
Activation
When you get a new subscriber, send an automated welcome email to them. Along with it, provide details of their login information, steps to how to get started, a PDF guide or a video. You can also include a personal chat or call with them. 
Follow up 
Suppose that a customer has put a product in their cart and has not purchased it yet. Prepare an email with a backlink in the shopping cart along with a certain discount code and send it to them. Your customer is now more likely to complete their purchase. 
Loyalty surprise
You can offer timely offers and discounts to your existing customers for their loyalty to your brand. 
5. Measure your performance
The last step is to record and adjust your actions based on your performance. Tools like Hubspot, MailChimp, and Google Analytics can be used to measure your performance. 
You can look for email metrics like click-through rate, bounce rate, conversion rate, list growth rate, open rate, unsubscribe rate, and more. 
All the data helps you to redefine your email marketing strategy. Paying attention to email analytics will give you specific clues to what you are doing wrong. 
Lastly,
Email marketing delivers lucrative results if you plan your strategy carefully. But that shouldn't be your only focus. There are abundant digital ways to enhance your marketing strategies. Thus, invest your time and learn digital marketing. 
Remember to personalize your emails and ask permission from new guests. Implement new and current strategies to encourage subscribers to be more responsive and engaged. Keep up with trends and search for ways to automate your emails. 
We hope you enjoyed reading the blog! Will you be using the above-mentioned ideas for your email marketing campaign? Let us know in the comments section below. 
Author's Bio
Karan Shah
Founder and CEO at IIDE
An 'Edupreneur' and the founder of IIDE – Indian Institute of Digital Education.
He is a passionate public speaker and teacher for over 10 years. He has trained over 1,00,000+ students and 25+ corporates in Digital Marketing via online and offline channels. He is a Harvard alumnus specialising in E-commerce. He is a TEDx speaker and is a visiting faculty at India's top management institutes like the IIMs.