How to Record Screen on Oneplus 7t Pro:-
Oneplus 7t and 7t Pro have mostly used phones in the world in 2020. It has an affordable price in all models. It provides different rates for different models. Oneplus 7t and 7t Pro are the latest models of Oneplus Company. Oneplus 7t and 7t Pro is also a well-budget phone. So here, we will discuss how to record screen on Oneplus 7t.
 Oneplus 7t has many new features from other android phones. Soon, Oneplus will become one of the highest mobile using the company.
Oneplus company has worked on his camera, battery, storage, and many other things. After all, the company has launched Oneplus 7t. Some new people face some problems while using a phone. So, In this article, we will discuss how to record screen on Oneplus 7t and 7t Pro.
How to Record Screen on Oneplus 7:-
There are different apps used for screen recording. Some apps are not useful, because they slow down the phone. They also effect on battery timing of the mobile. But here we will recommend you the best and super-fast screen recorder which will record your phone screen very smoothly.
DU Recorder is one of the best screen recorders in the world. It is available on Google Play Store. You can easily download and use it from the Play Store.
Download DU Recorder in Oneplus 7 Pro:-
Firstly, go to this link. This link is interlinked to the Google Play store. You will be redirected to DU Recorder in Play Store. From there, you can download the screen recorder.
How to Start Screen Recording:-
•    First of all, go to this link and download DU Screen Recorder.
•    Install it and open it in your Oneplus 7 Pro.
•    Then it will ask to Allow Access.
•    Now, a floating video icon will appear on your phone screen.
•    Click on it and click on a red video button icon. It will start the count down; 3 2 1
•    Then, it will start screen recording. Click on the same red icon if you want to stop recording.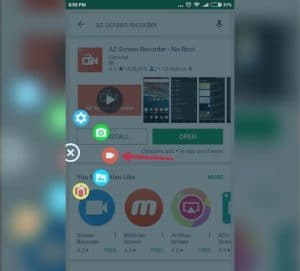 Edit Recorded Video in Oneplus 7t Pro:-
There is a built-in function in the app where you can edit your recorded video. You can add music, crop, blur, trim, and can do many other things. In the Pro version, there are many upgraded features.
How to View Recorded Video on Oneplus 7 Pro:-
In the gallery, there will be a folder named DU Recorder. Here you will get all of your recorded videos. You can watch them and can share them on social media etc.
How to do Live Stream on Oneplus 7t:-
There is the latest update of DU Recorder. You can do live streaming on Facebook, Instagram, Youtube, and many other platforms. For this, you have to connect your Social Media Accounts to Recorder to start live streaming.
I hope that you have liked our article. If you still need any help or you did not understand anything, comment down. We will try to reply within 24 hours. Thank You.
Read Also
How to take a screenshot in Oneplus 7t Pro.
How to hard reset Oneplus 7 Pro.