The past decade has been a boon for restaurants as POS billing software for restaurants has gone through a myriad of changes. This has led to improved customer experiences and operational efficiency.
While the traditional POS systems were good enough only to produce receipts, modern POS systems have drastically changed the way restaurants accept orders and collect payments. Moreover, there has been a change in managing inventory and  the way restaurants engage with their customers.
Here are just a few reasons why you should invest in a customized POS system. Ready, let's dive in!
1. Smoother Payments and Contactless Ordering
Post COVID-19, customers are more than interested in contactless ordering and payments. This lets them choose from a menu, select meals, and pay via smartphones.
Besides, they also appreciate the ease it provides them as they can quickly conclude their visit to the restaurant and get going. The modern POS system requires you to just scan the QR code with your phone and make payments via multiple payment gateways.
2. Manage Staff With Ease
When integrated with POS systems, cloud accounting software can help you manage your staff and monitor their activities and time spent on each with ease.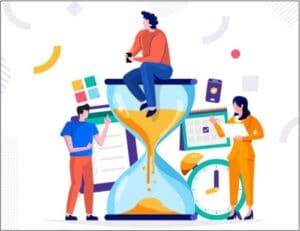 3. Accurate Timekeeping
Well, to offer the best services, you need to be not on but before time. POS systems will lead to improved record-keeping and less clutter. Besides, it will be super easy to calculate wages and get on track with your taxes. These systems are your weapon against  theft and mistakes. You will also get access to cash-ins and cashouts and can easily make reports for the same.
4. Deliver Hyper-Personalized Customer Experience
With POS billing software for restaurants, you can fine-tune your customer experiences, record and organize customer information in a better manner, and offer discounts too. One thing that you can do is offer their favorite dessert or drink on their special day.
Another way is to offer to customize offers right in their inbox. This is possible by keeping a note of tracking their visits and other information. You can also create reward programs that will help you build your tribe. Such programs also give out the message that you care about your customers and make efforts to keep them happy.
5. Get Access to Multiple Reports and Analytics
POS systems help you generate comprehensive reports covering all aspects like costs, sales, staff members, inventory, products, and other parameters.
As a restaurant owner, you can easily monitor data from tablets and mobiles This will also make handling operations easier if you have multiple outlets. Besides, you also get access to real-time reports and analytics, and they can help you make well-informed business decisions.
6. Improve Customer Relationships
A POS solution can help you take your customer satisfaction to a new level. These systems will help you change your menu, reduce wait times, and also offer multiple payment options. With all these features, you will be able to offer better services, and that will lead to more satisfied customers.
7. Offer Discount and Loyalty Programs
Loyalty programs and discount schemes are a great way to get returning guests and increase clientele. But, to implement these solutions effectively, restaurants need cloud-based accounting software. It will help you store data, redeem loyalty points, and keep a tab on restaurant bills. The best thing is that you can maintain uniformity across all outlets.
8. Automated Analysis
Online Invoicing software can help you automate report generation. When you have access to campaign reports and consumer behavior, you can make effective strategies, improve client relations, and also get access to new ones.
9. Cut Down Errors
Only happy customers will return to your restaurant. They may also recommend your restaurant to their friends and family. So, if you need to make your business grow, you need to have a list of customers who think highly of your business. Many times handwritten orders can lead to confusion, but with customized POS billing solutions for restaurants, you can drastically reduce human errors.
Wrapping Up
This was how customized POS billing software for restaurants could help you streamline your operations. Not only will it help you expedite your services and reduce human errors, but it will also improve your brand reputation. So, if you are looking for cloud-based accounting software, we can help you find the best one.