If you are a gamer, you know the Twitch platform. A twitch is a well-known platform that's made for gamer. Where you can watch live streaming, broadcast, and e-sports competitions.
Twitch platform crowded with professional gamers and has millions of viewers per month.
Every gamer has a creator and, MissQGemini is one of them. She is the most popular streamer and ruling on twitch tv.
But after some time, when she indicated as a cheater in the game, she lost her reputation.
I think cheating in the game is not a crime but, when a professional or a public-figure person do something wrong people, start judging and pointing fingers at her,
She denied all the situation and defended herself forcefully, but the question is that where is she now? We wanted to know  Miswhat happened to Twitch streamers MissQGemini? Why she hides. Let's! take a look at the whole story.
You can know more about gaming from techyice.com
The Story Begins From This
It happens when the live stream on Twitch. MissQGemini talking about her cheating case and didn't accept the cheating blame while playing.
She said that everyone blaming her because she is a female and again start focus on gaming.
But when talking about one of her recorded streams videos,
it saw that she was loading her profile, immediately shows the other player that is on the other side of the wall
Suddenly, while streaming live on video playing. She realized that other people are watching her on a live stream. She caught red-handed.
To cover up this matter for tackle the situation, she started to ask people if they faced any unkind defects like her and starts to blame one of her friends, Rock,
After arguing with people, she starts blaming another friend Clara.
She said that she was using her computer before that day.
Making false excuses, making theories, and blaming her friends.
Many people, watching her video and caught red-handed. All things have vanished now and, truth is revealed in front of people.
When she didn't defend herself anymore, she signs off from her account and never come back on live streams.
But the question is many platforms like CS caught many players while cheating and banned them. Why MissQGemini remains on that platform?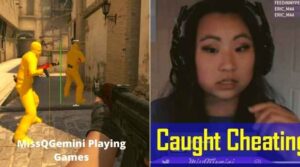 Made New Account Djinn
She made a new account with the name of Djinn. She was banned only for a day after changing her account name she comes back to start playing. She was not able to do a live stream to avoid people's reaction to her cheating scandal.
After somedays, when viewers do not search her, then her second account also unavailable because nobody was interested to know what happened to Twitch streamer MissQGemini at that time,
It leaves the wrong impression on her and, she has to pay for her mistake.
Is she banned or not?
Yes, she was, in the period VAC banned. She told Twitch platform didn't do with her.
According to MissQGemini, she closed her account herself, twitch not banned her from this platform. According to the tweet on her Twitter account, after posting, she disappears from that account too.
She comes back with a new name and new account on Twitter.
Miss Q Gemini YouTube channel
She failed after making new accounts on Twitch, Twitter, and now YouTube channel but, it also didn't work for her,
She has only a few subscribers on her YouTube channel like Twitter.
She is continuously uploading videos to be in the news to take her reputation back, but she didn't get a response from the audience. all things become worthless.
She posted a video of herself playing on her YouTube channel, but with few subscribers, she didn't make money for herself on YouTube either.
The best solution is an apology
She did all the things but, nothing gets fruitful for her. She starts pointing fingers at others but doesn't accept her mistake and does not apologize to the public. But if you are a public figure or a professional player, you didn't take back your fans without an apology.
A sincere apology is something that most people can appreciate and forget about your mistake, even when you performed something wrong or an unforgettable sin.
Conclusion
In the conclusion of Miss Gemini's story, you must not cheat unless you lost your self-respect and your favorite persons, never are ashamed to apologize. If you are caught red-handed, then don't make foolish stories and don't blame others.
Simple is that accept your mistake, say sorry and, move forward.
Now, no one knows what happened to Twitch streamer MissQGemini and where she is? But Hope, so after making fool stories and attention-grabbing stunts failed, she comes back for help.
Cheating is not a crime but, it's a problem that can ruin your life badly.
So, keep away from these kinds of cheating and don't ruin your life. MissQGemini made mistakes and paid for them.
To Learn more about gaming read other blog post on our website.