Fixing a record player, requires the mechanical and electrical knowledge. How to fix a record player, it's pretty common question when it comes to listen music using record players.
For different people, music plays different roles. We often want to listen to music under different circumstances. Music console us, reassure us, teach us and lift us in most of the aspects of our life's.
If you really like music then you need to have a good record player, probably a one that isn't broken.
If you have fond of music, then you will definitely need to have a good record player that works properly.  Well, if you don't get a new one then, don't worry you can still fix your record player.
There are different problems with a record player and all these problems have different fixes. Fixing a record player, is only possible when you will know that why the problem with your record player.
In this article, you will find out some common problems and their fixes.
Read the article completely to know that how to fix your record player.
Common Problems With Record Players
As I said before,  to know that how to fix a record player, you will need to know that what's the problem with your record player.
Here, I'm sharing with you a list of common problem that you will face as an owner of a record player :
Tonearm is misaligned, swingy or bouncy.
Turntable Belt is having issues while running.
The needle is missing.
The Needle is too thick for grooves.
The Cartridge is heavy, it's putting extra weight on the record.
The Wires are connected poorly.
The preamps and amplifiers are faulty, and not working properly.
This is the list of some of the common problems that you might face while been an owner of a record player.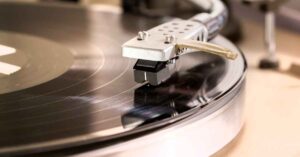 How do you Fix a Record Player?
Now it is time to share with you guys some possible fixes of the record player. How to fix a record player, you will find out. You will find the fix of each of the problem with every sort of the problem. Luckily, these are all the tested fixes of the problems associated with the record player.  Here are the problems with their possible fixes :
Vinyl Record Issues
If your problem is coming out of the record or disc itself, then don't worry its the simplest issue to resolve. The problem is with the groove. The static forces drives that dirt and debris into the grooves, that keeps it away from playing smoothly.
Fix
To fix this, take an anti static cloth, place the disc or the record on a flat surface and wipe it clean. Hold the record or disc in the right way, make sure that it doesn't that your fingerprints all over or else, it would damage your fixing plan.
Stylus Issues
The Stylus is sloshing known as needle, it is the key component of any record player. The Stylus Issues consists of missing needles, needles music playing time is finished.  These are the issues that mostly occurs with your stylus. If your stylus is ruined your entire record player will be ruined, this is how important is stylus.
 Fix
To fix that your needle is missing, you will need to replace the lost one needle with a new one. To fix your needle music playing time is finished, there's no such fix for this but remember your needle has 500 hours of playing , music before needle replacement. When time is up you need to replace the needle.
Tonearm Issues
The tonearm is an area that requires regular maintenance, as it is highly is movable part of the record player. The tone arm mostly have adjustment issues. If not adjusted regularly it may be one heavy on discuss and widen the grooves. Music may be very slow with low sound quality and the turntable may not spin due to overweight.
Fix
To fix this, ensure the proper adjustments of all the completing parts and note down the weight of your tonearms counter weight which is mostly about 2 grams. When you will adjust this is correctly you will see a significant change in turntable speed, also consider oiling for maintenance and prevention of rust.
Preamps and Amplifiers Issues
Preamps and Amplifiers are handling sound strength and quality. It the record is being played at a decent level, but the record quality is poor than there's must be a connectivity issue.  Some times, you will notice this in the vibrations in your speakers.
Fix
To fix this, you will have to disconnect all the wires that are connecting the record player to the audio equipment.  After 2 to 3 minutes,  plug in them again, making sure that they are all plugged correctly.
Turntable and Belt Issues
Problems with the turntable or belt can mostly cause the overly fast or slow speed of the music. This is often happen blue to the increase or decrease in belts size or a broken belt. Remember, the belt helps the turntable in spinning. If there's any issue in belt turntable will be no longer spinning.
When the size of the belt is over lengthened, there will be slow speed, if the size is too short there will be fast speed or may be it won't spin at all.
Fix
To fix this, turn off the device and start the process. You will find the belt between the spindle and the platter because the belt connects this. Check the instruction manual twice to find information regarding the required length and thickness of the belt. Then tighten any loose screw adjustments.
If this option fails, then boil your belt. Remove the belt. Place water in a boiler, let it boil then add belt in it. In this way the belt will come in its original size. This option will not work on broken belt. You will need to get a belt replacement in case it's a broken belt.
Conclusion
In this article, I have explained to you in detail that how to fix a record player. I have shared with you some common problems that mostly record player owners faces.  I have shared with you in detail all the possible fixes of a record player.