We know how much you love your American Akita and want to take care of it. As a result, we have decided to discuss health issues and concerns that your canine pal might be susceptible to.
Having this knowledge will do the following for you:
Many of the illnesses associated with Akitas are genetic. Interestingly, many canine geneticists and veterinarians agree that the rate of occurrence of the discussed conditions in this article is quite high.
This doesn't necessarily mean that your pet will suffer from these conditions; however, it means the risk rate is higher when compared to other dogs. If you need flea collar for dogs shop at DEWELPRO.
Therefore, we will look at the most common health issues of Akitas as we can't discuss every possible issue. These issues can also affect other breeds. Hence, this guide will prove valuable to every dog owner.
Akita Genetic Health Issues
The general health issues peculiar to most dogs are dental, infections, obesity, parasites, and neutering/spaying. However, we've chosen to focus on the peculiar genetic health challenges of this breed.
1.  Bloat
Bloat or GDV (Gastric dilatation-volvulus) is common with canines that have deep and narrow chests. Unfortunately, the Akita breed has this type of anatomy which makes them prone to this health issue.
When dogs bloat, their stomachs twist and get filled with gas. As a result of the twisting, the stomach's blood supply is cut off and even the spleen might be deprived of blood. If this is not treated immediately, it could prove fatal. Your dog could end up dead in just 30 minutes.
Symptoms that your dog is having bloat include heaving or retching, restlessness, an inflated abdomen, or it might assume a prayer-like position. Once you notice this, rush your furry friend for emergency treatment.
One of the ways to prevent this is via preventive surgery. The dog's stomach is stitched in place or tacked down to stop it from twisting.
2. Thyroid Issues
This breed is more likely to suffer from hypothyroidism which is a condition whereby the body cannot produce sufficient thyroid hormone.
Symptom of this condition includes hair loss, dry coat and skin, weight gain, aggression, fearfulness, behavioral changes, and other skin disease susceptibility.
The treatment usually given is a pill that will function as hormones within the body.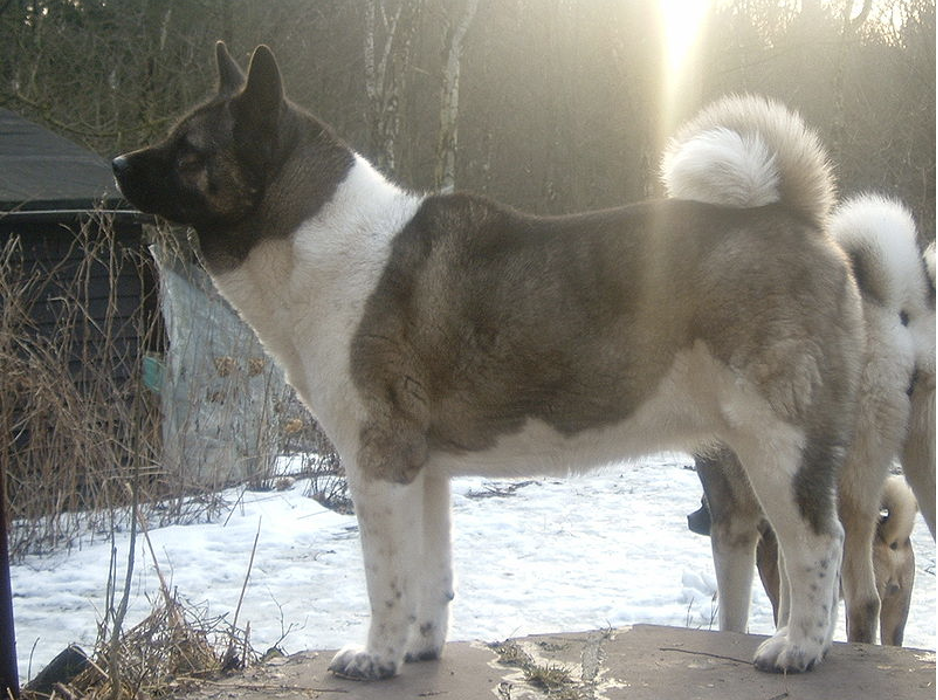 3. Cancer
The dreaded "C" disease is a major cause of the death of older dogs. Ironically, the Akita has a long life span which means it will certainly get old which makes it more susceptible to cancer as it grows older.
Many cancers can be cured through surgical removal while others are treated using chemotherapy. The key to successful treatment and cure is early detection.
Two major types of cancer affect American Akitas:
·       Lymphosarcoma or Lymphoma
This cancer is known to affect this dog breed more than others. What the disease does is that it causes the body to produce abnormal lymphocytes (a kind of white blood cell). Unfortunately, WBCs are located everywhere in the body which means cancer can pop up anywhere. Read more here about dog's white blood cells.
Thankfully, this cancer form can be treated via chemotherapy and its success rate is high in canines. Early detection is also possible since it can be found within the blood. As a result, it is recommended you take your dog for a blood test twice a year.
Symptoms to look out for include swollen glands, labored breathing, and weight loss.
·       Osteosarcoma
This is a bone tumor disease that is commonly found in all dogs. It naturally affects dogs that are either giant-sized or middle-sized, and the Akita falls within this category.
Initial symptoms include leg pain and lameness. To cure this tumor, it must be detected early. This tumor is very aggressive and painful. Therefore, once you see any of these symptoms report them to your vet immediately so that the removal process can begin.
4. Musculoskeletal Issues
Different bone and joint problems are commonly reported to affect this breed. Despite looking so overwhelming, a good number of these conditions can be easily diagnosed and treatment can be given to stop suffering and undue pain.
Below are the most common musculoskeletal problems…
·       Dysplasia
This disease affects the elbows and the hips and is usually inherited. It hampers the proper development of the joints which leads to arthritis. As a result, your dog suffers as it grows older due to the stiffness of its hips and elbows. It can even lead to lameness.
The only way to treat dysplasia is complete hip surgical replacement with plastic and metal implants.
·       Arthritis
While this is more common in older dogs, larger as well as overweight dogs are also prone to this problem. American Akitas are large and live long lives which makes their potential for this disease very high.
Arthritis can be treated to reduce pains and discomfort. However, you need to begin the treatment immediately it is discovered to get maximum results.
Also, make your dog engage in exercises to prevent him from becoming overweight which increases the risk of arthritis.
5. Skin Conditions
This dog breed is also prone to different kinds of skin conditions with sebaceous adenitis being one of them. These conditions occur when the dog is in its first five years.
Symptoms of such conditions include you doing having dry and scaly skin as well as hair loss at the upper part of its head, the back of its neck, and its back. If you own a white Akita, this condition can make it lose its beauty a great deal.
Treatments for these conditions exist but they are usually long-term. Besides, it involves different combined approaches to decide which is suitable for your dog.
Conclusion
Akitas are generally healthy dogs but they face a high risk of health conditions, especially genetic-related conditions. Knowing the risks they are exposed to helps you prepare adequately before getting one.